Client journey 3 – You're a technician with an entrepreneurial spirit 
Technical experts with a flair for entrepreneurship are the key new business starters in Australia. Here we examine what success looks like for these types of business.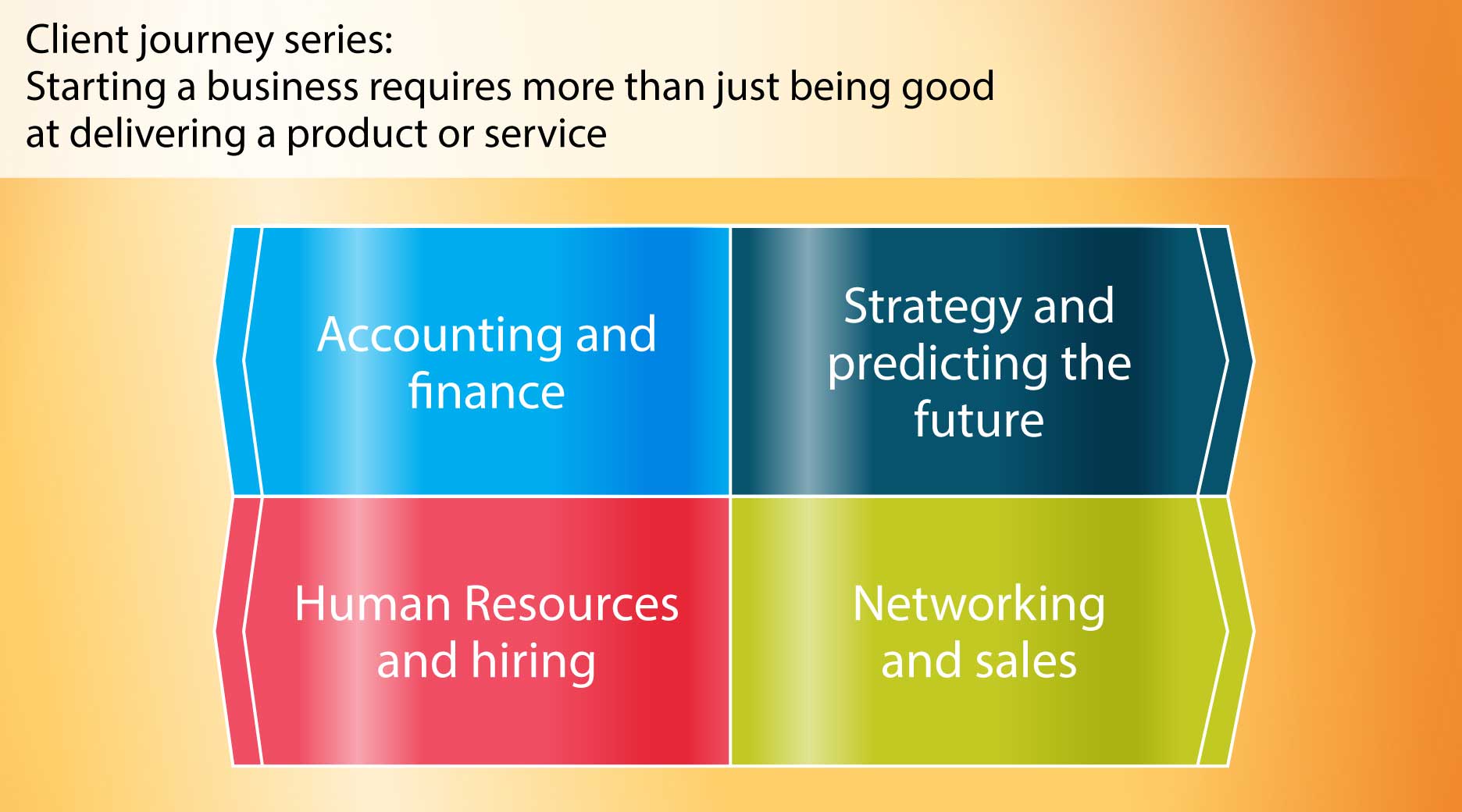 The role of technical experts in Australian business
The majority of Australian businesses are started by 'technicians' — individuals with a deep technical skillset. They might be at the cutting edge of mining technology, renewable energy, fintech or biotech, or they might be from the more traditional trades and industries: Whether a builder or a fintech app developer, it is their technical know-how that is the core of their business proposition. Of course generalist entrepreneurs or businesspeople do exist as well, people who start a series of businesses in diverse fields with no specific knowledge in any one area, but they are actually relatively rare and there is good reason the term 'serial entrepreneur' is a rare species.
So what leads a technician to start their own business, rather than to work in an existing one? In short, those technicians have an entrepreneurial 'sprit': An inner desire to go out on their own and offer something different than what is already on the market. This brings both opportunities and challenges — those with an entrepreneurial mindset can often struggle with some elements of growing a business, such as people management (for research on this topic, check out Brigham, K.H. and De Castro, J.O. (2003), "ENTREPRENEURIAL FIT: THE ROLE OF COGNITIVE MISFIT").
In this article, we explore some of the challenges that arise for these kinds of businesses, and how 'technician-entrepreneurs' might best manage them.
Challenges for technician-entrepreneurs
The Australian economy is dominated by small to medium-sized businesses providing services or products derived from skilled services (nearly 98 percent of Australian businesses have between 1 and 19 employees, and most of those would fit that description). Often, they operate in competitive industries such as construction, transport, the trades and hospitality. This has a few consequences:
Being a 'player', rather than coach/team strategist. In a growing business it is crucial that a business owner's focus is on strategic and managerial issues, not on the day-to-day grind. While, of course, there needs to be technical oversight of work, as much as possible the technical work needs to be delegated to a competent person. Sometimes this is framed as the advice "spend time working on the business not simply in the business".
Failure to think strategically — technicians can get lost in the details, and lose the strategic picture. When you have spent most of your working career poring over building plans or engineering schematics, it can be hard to step outside that and think about the 'big picture' for your business (read more in Client journey 1: You've done the time to learn your craft).
Average people management skills: In a growing business you need to build your human capital: But being an entrepreneur does not necessarily mean being a good people manager. This is often a skillset that technician-entrepreneurs need to work on. It is also critical to have the right staff in the right positions ("right people right seats").
Lack of processes. A successful business means having the right processes in place. This covers, bookkeeping, project management, the sales funnel, compliance, and many other aspects of business operations. Too often, technician-entrepreneurs 'ad hoc' it without putting the right process in place.
What do technician entrepreneurs need?
Given the pain points above, what is it that technician-entrepreneurs need to work through then?
The right staff to carry out tasks they may not personally be as well-suited to. This is coined in the phrase "right people right seats" as an important business goal.
Established processes (such as bookkeeping and project management) to constrain a more 'creative' personality. Every business needs a process to ensure the efficient use of resources.
Support to develop new skillsets. Few technician-entrepreneurs are 'born' with the full set of management and strategic skills that they need: Leadership, finance and systemic thinking are all things that can, and need to be, learned by the technician-entrepreneur.
Who can help?
Who is best-placed to help these business owners get up to speed? Some of the key people include:
Other entrepreneurs — including those in completely different industries. The point is that it is not the technical skillset that needs to be built upon, but the entrepreneurial skills which plausibly apply across industries.
Accountants and accounting software, to create the processes to keep the technician-entrepreneur out of the minutiae of financial recording and in the strategic headspace. For more on introducing better financial reporting practices, check out our article on how to create a 3-factor budget.
Marketers. Having innovative ideas, does not automatically make a person skilled at selling an idea. Many technician-entrepreneurs could benefit from successful marketers to help them sell the vision to future customers.
Paid business coaches – they are usually experienced in business and can help introduce a structure that is sorely needed.
The technician-entrepreneur journey
Becoming a technician-entrepreneur involves phases — few people will have all the skills they need from the beginning. What is crucial is to have robust support systems and strategy in place once the business gets off the ground: Specifically, business owners should consider the following steps:
Feasibility studies on potential products. It is important to check that the proposed product is viable, and to look at what else is already on the market. It is important to assess a market before jumping into it. Often entrepreneurs find out that their target market isn't "deep" enough or attractive enough.
Seeking funding to support product and service development. Product development almost always costs more than you anticipate so it is important not to undercapitalise and to get somebody onboard to provide the necessary financial support
Collaborations/partnerships to market the product — few products sell themselves. An important part of your entrepreneurial journey will be collaborations with others that can help spread the word.
Accounting and project management systems to keep everything on track and measurable.
Becoming a technician-entrepreneur — you can do it
While the challenges can make the entrepreneurial journey seem daunting at first, keep in mind that new skills can be learned and new processes implemented relatively quickly: We should all remember what happened with covid 19 – we all had to change to digital in 2 weeks. And we just made it happen. Mindset is arguably the most important contributor to the success journey. Keep in mind, also, that there are always new tools and support becoming available to make business processes more straightforward — look at the impact AI is already having on internet marketing, content production and graphic design and writing.