Lovely retirees ripped off by son-in-law
Executive summary
European retirees entrusted AUD $2 m to their Australian son-in-law to purchase bonds and the money was misused
Aggressive action undertaken that resulted in the winding up of a key company, a personal judgment and ultimately the bankruptcy of the son-in-law
No financial return was obtained for our clients
Client testimonial about Sewell & Kettle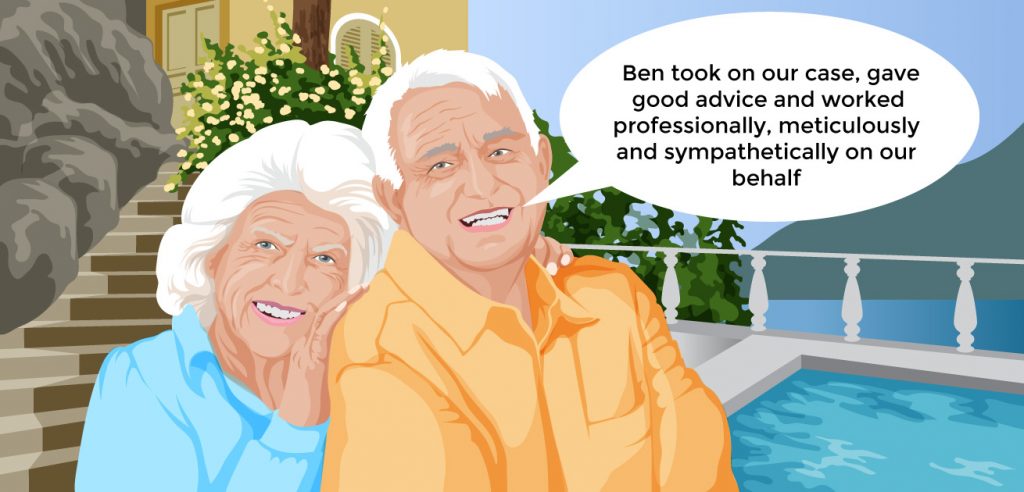 We asked Ben to help us with a very difficult situation we found ourselves in 5 years ago. We had been defrauded by our ex son-in-law to whom we had previously entrusted the management of a private pension and our savings. It was a painful experience, financially and emotionally.

Ben took on our case, gave good advice and worked professionally, meticulously and sympathetically on our behalf. Unfortunately, we were not able to recover the funds that had been stolen but we know that Ben and his team did their best, under very difficult circumstances, and their diligent approach resulted in the Supreme Court finding in our favour. We were impressed by Ben's astute handling of the proceedings and have no hesitation in recommending Sewell & Kettle.
Client's background and business
Clients were a retired couple in their 60s – recently retired to Italy after selling a successful small business
Son-in-law was an apparently successful bond trader based overseas who convinced them to advance AUD $2 m to him to invest in bonds on their behalf
The money was ultimately used:

to purchase a large farming property in Australia;
for personal luxury expenditure; and
for speculation on failed business ventures
Challenges faced before Sewell & Kettle Lawyers were engaged
Lack of documentation regarding monies advanced and obstruction from son-in-law regarding the actual application of the monies
Distance from clients (retired in Italy) and difficulties finalising the initial analysis due to loss of financial records
Obstruction from the voluntary administrator appointed over key assets (friendly to son-in-law)
How Sewell & Kettle Lawyers helped
Undertook immediate analysis of transactions, documentation and client assumptions to give clarity on the legal position
Took immediate legal action to terminate voluntary administration process and appoint a preferred liquidator
Took immediate action to obtain a judgment for civil fraud (Barnes v Addy)
Prepared a brief of evidence to provide to NSW Police Fraud squad
Lessons learned by the clients and takeaways for others
Documentation of large advancements of money through solicitors is a necessary protection
Not every matter ends happily because no recovery of monies was undertaken and the NSW fraud squad declined to take action due to opacity of overseas transactions
Monies from the sale of the principal asset ($5 m farm and livestock) were recovered by a receiver appointed by the mortgage financier
Our client's comments about their current retirement in Italy:
Yes, Italy is beginning, cautiously, to come out of lockdown – we can now travel to other places within our region, Abruzzo – and have a coffee at an outdoor café. And from tomorrow, we can go to the seaside!

We moved to a smaller house in the same town – no pool but a nice garden – and were lucky to be able to move in just before the lockdown. Also lucky to be living in central rather than northern Italy.
Read our case study – Shareholder dispute