Recovering a loan from the ghost CEO
Executive summary
Our client had a second-rate accountant who suggested that they advance an unsecured loan to a start-up based in Singapore (sounds fishy right).
The borrower was an Australian-registered company but its founder was ghosting creditors by living in Singapore.
The chances of recovering the loan seemed to be low because the business had ceased trading.
Sewell & Kettle took enforcement action through a creditor's statutory demand and then through winding up proceedings in the Supreme Court.
The result was a complete recovery of the debt – in large part because of fortunate timing and the benefits of prompt action.
Client testimonial about Sewell & Kettle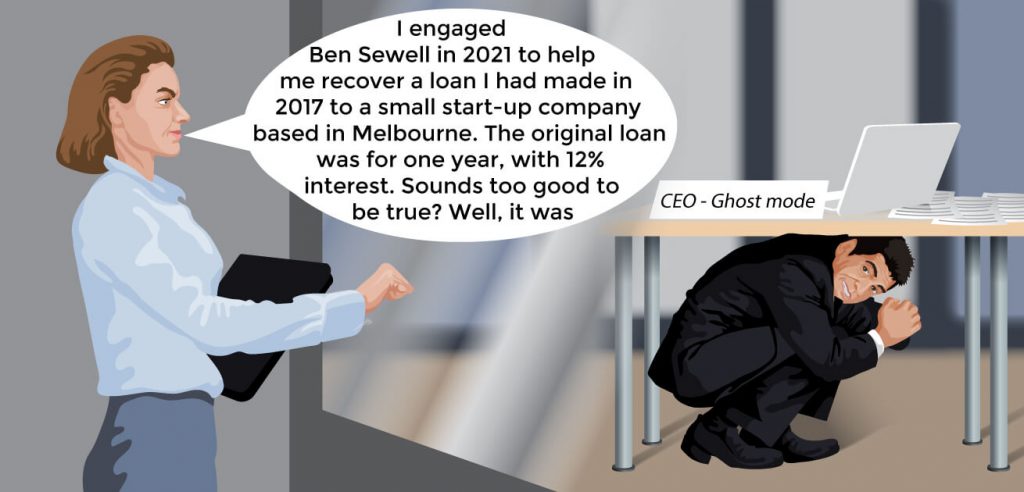 I engaged Ben Sewell in 2021 to help me recover a loan I had made in 2017 to a small start-up company based in Melbourne. The original loan was for one year, with 12% interest. Sounds too good to be true? Well, it was. … Ben and his team were superlative from start to finish. Ben explained the process and my options very plainly and, not only was it clear that he knew his stuff, I also felt that he cared about seeking justice for me. When he swung into gear, he worked fast, left no stone unturned, and kept me well informed. Right up until the end, it still seemed like a long shot to me that I would get my money back. Ben masterfully succeeded in getting a response from the rogue company's CEO and their lawyer and skilfully negotiated an out-of-court settlement. Not only did he recover my original debt but I also received the outstanding interest owed to me! I was amazed and extremely happy with the outcome. I would highly recommend Ben and the team to anyone looking for an excellent corporate lawyer. Ben is professional, organised and highly effective. He is also very responsive and pleasant to work with and his fees are more than reasonable. I would hire him again in an instant.
The background
The client was an Australian professional based in New York but she had no background in start-up investment.
The client's accountant suggested that they advance a loan to a tech start-up based in Singapore because it promised a 12% annual return.
It was a bit fishy for the accountant to provide this investment recommendation because there was no prospectus or even a detailed business plan for the start-up business so there was no way for the risk of the transaction to be assessed.
The founder of the debtor company made payments of some interest but after a year they started to ghost the creditor.
By the time the creditor engaged Sewell & Kettle a couple of years had passed without anything being repaid and a lot of unanswered emails.
Challenges faced before Sewell & Kettle Lawyers were engaged
There were sufficient documents (being a loan contract) and evidence to prove the claim but the borrower under the documents appeared to have nominal assets and there was no director's guarantee or security (ie. collateral) to support the loan.
The start-up business appeared to have ceased trading so the chances of recovery looked to be very poor.
Further, because the founder of the start-up was based in Singapore it was concerning that any Court enforcement process in Australia could have 'missed the boat' because assets could have been moved overseas.
How Sewell & Kettle Lawyers helped
Reviewed the documents and provided advice regarding the quality of the evidence supporting the claim.
Issued a creditors statutory demand and then corresponded with the debtor company to push for a debt repayment.
Issued court proceedings and applied to wind up the debtor company through the Supreme Court of NSW.
There was some luck for our client – the debtor company was in the process of selling assets and obtaining finance. The listing of the winding up proceedings on the ASIC company register caused concern with the buyer and they required the debtor to pay out the claim before settlement.
Sewell & Kettle obtained the repayment of the entire debt and made the client very happy.
Lessons learned by the clients and takeaways for others
Remember Warren Buffet's No 1 Rule of Investment; 'never lose money'. If you're loaning money to a new private company you must be either a 'friend, fool or family'. Get a new accountant if they don't prioritise capital protection when they advise you on investments.
If you have made a failed investment, a creditor's statutory demand may be a good enforcement action (provided you have strong evidence to support the claim) and following that a winding up order could get you a return.
Read our case study Restaurateur insolvency