Restaurateur faces insolvency and loss of viable business
Executive summary
Client owned a successful hospitality business
Personal expenditure and past indebtedness became a problem for the solvency of the corporate structure
Provided advice regarding the legality and practical risks of a pre-pack insolvency arrangement
Client testimonial about Sewell & Kettle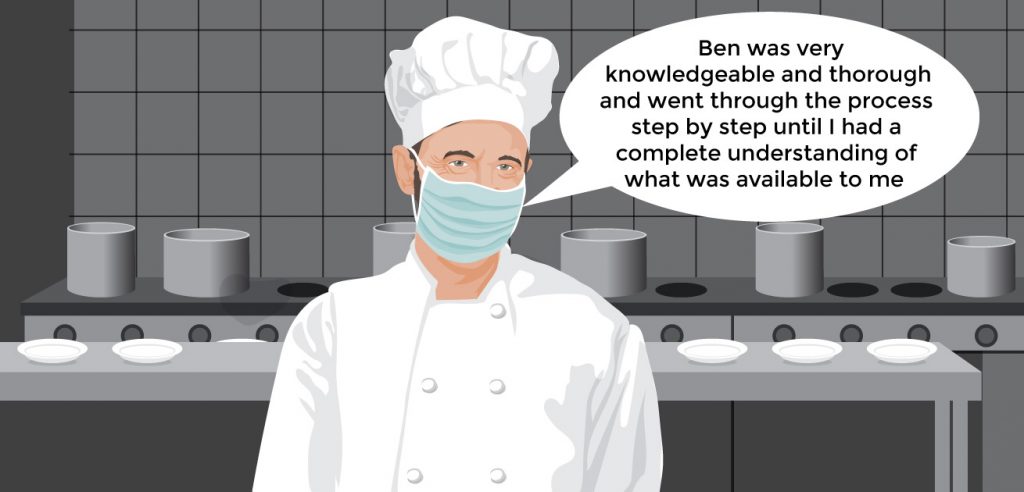 I had been in contact with a number of firms prior to contacting Ben at Sewell & Kettle. Besides receiving conflicting information, all of the firms were more interested in the payment than listening to my concerns.

Ben took the time to listen to what the issues were and discussed my options with me. Ben was very knowledgeable and thorough and went through the process step by step until I had a complete understanding of what was available to me.

All staff at Sewell & Kettle involved with my file are highly professional and easy to contact.

All in all I feel that I am getting the best advice in the market based on the many firms I spoke to.
Client's background and business
The client is a warm and hardworking restaurateur but his financial management is poor
Business is a successful restaurant with turnover of $1.2 m that on an accounting basis is a viable business
The goodwill in the business was created through the persona and 'sweat capital' of our client
The client's instructions were that his business is his passion and he wanted to continue working as a hospitality entrepreneur
Case Study 2 – explained
Firm Principal Ben Sewell takes you through an explanation of this case study
Challenges faced before Sewell & Kettle Lawyers were engaged
The key issue was that the company structure was insolvent due to director's loans and unpaid taxes
The client also faced personal insolvency
ATO winding up application looked likely if the financial issues were not addressed
The continued contribution of our client to the business would ensure its viability but a restructure was required
How Sewell & Kettle Lawyers helped
Undertaking a timely analysis of the client's situation and options for a restructure
Providing confidential advice regarding whether a pre-pack insolvency arrangement was feasible
Lessons learned by the clients and takeaways for others
Create an asset protection structure for all businesses that separates the trading enterprise (with risk associated with expenses and income) and a separate trust that holds assets such as plant and equipment and property leases
Outcome is confidential but favourable compared to a liquidation fire sale
Client comments about his current status:
I'm still cooking!
Read our case study Lovely retirees ripped off by son-in-law