Video "Being Lost in the Insolvency Industry"
Firm Principal Ben Sewell takes you through an explanation of who gets lost in the insolvency industry and why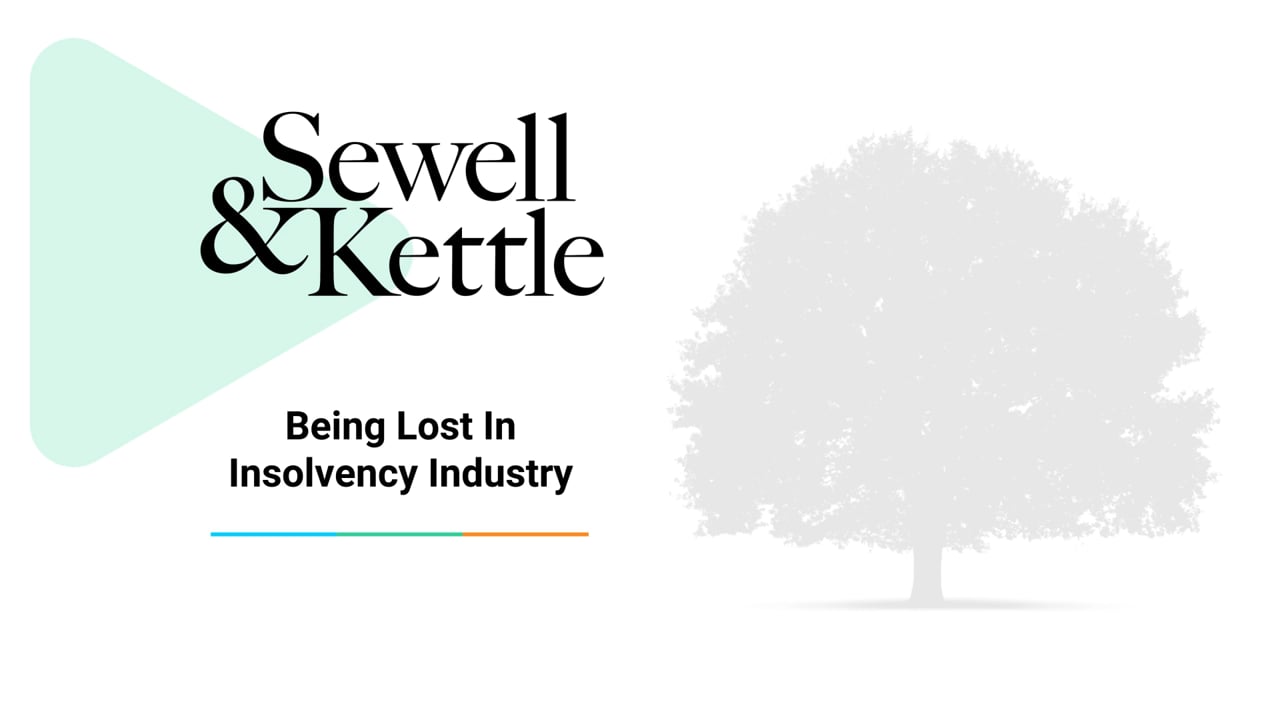 The insolvency advice industry for small to medium sized businesses (SMEs) is poorly regulated. Anyone can provide corporate restructuring advice to SMEs and there are lots of people including accountants and lawyers without specialist knowledge and experience that do so. Watch our video to find out more about the tools you need to navigate the insolvency industry.
Video transcription
Being Lost in the Insolvency Industry
Who gets lost in the insolvency industry? I think it would be most owners of small-to-medium sized enterprises that step in and try and evaluate whether they should engage an accountant or a lawyer, or engage an insolvency practitioner directly, because the insolvency industry is very opaque and complex.
What I see all the time is clients in the construction industry, the transport industry and the retail industry being tipped over the edge and being poorly served by their advisers. Their accountant has 100 clients, and for them to provide a bespoke analysis of their position is unlikely.
Why do they get tipped over the edge? These clients get tipped over the edge because of upper management issues.
They have a dispute with their co-owners.
Proprietor sickness or proprietor depression.
Large projects that are a drain on cash flows.
Losing their main client.
Why Do People Get Lost? The first issue is that there's no regulations in place that can give you any guidance about who can give you advice. That means that anyone can sit down and put themselves forward as a small-to-medium sized enterprise business insolvency consultant.
The other thing is that the accountancy industry is very poorly serving their clients. The reason is obvious, most accounting practices have over 100 clients and so it would be irrational of them to spend an inordinate amount of time with their insolvent clients when their solvent clients are going to pay them more and require less work.
Insolvency practitioners are also under a very strong conflict of interest. This is because they get paid more for a voluntary administration compared to providing restructuring advice. If they sit down with a director and provide meaningful due diligence and advice, then they lose potential upside in terms of fees and they also rule themselves out of being involved in a future voluntary administration (due to strict independence requirements).
The result is that a lot of business owners that get lost in the insolvency industry face a fire sale through a forced company liquidation. What happens is they procrastinate, they talk to the wrong advisors, they don't pay their tax debts and don't file their tax returns and they delay it to the point where they're forced to go into liquidation or voluntary administration. This results, at least 95% of the time, in them getting no return.
What Steps Can a Business Owner Take? The number one thing is to shop around. Speak to different advisers, read articles, get direct feedback from directors, accountants and lawyers who have dealt with the consultant. Speak to people who have had first hand experiences with business insolvency.
The second thing is to make sure that your financial information is up-to-date. If a business doesn't have its accounts up to date, then no one is going to be able to analyse their position. If you can't measure it, you can't manage it.
The last thing is networking. Networking is very important because it gives you the opportunity to speak to other directors who have had the same problems. This will give you an insight about the quality of the adviser that you need to engage.