Video "Court Representation"
We represent our clients in all Australian courts as well as arbitration and mediation forums. We act in complex litigation for both plaintiffs and defendants. Firm Principal Ben Sewell takes you through an explanation of court representation services.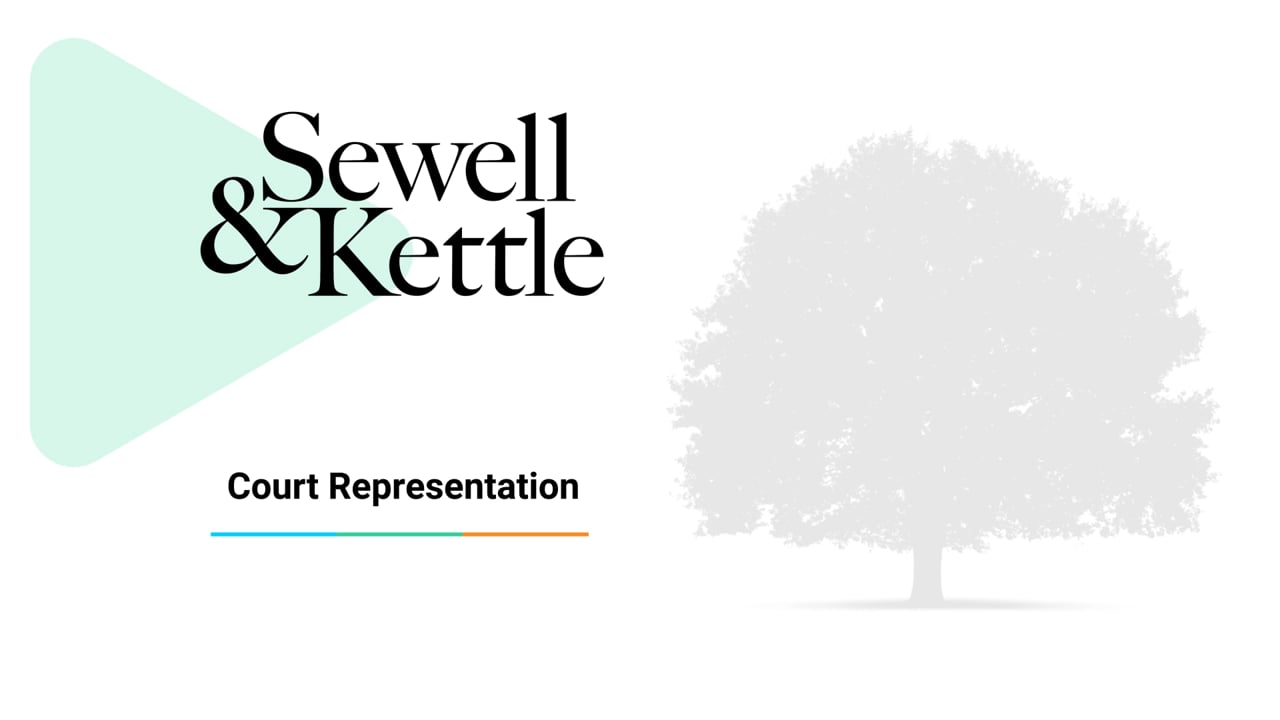 Sometimes litigation is required to resolve commercial claims and disputes. Sewell & Kettle Lawyers understand the needs of businesses, entrepreneurs and families facing commercial litigation because we specialise in this sensitive area. We represent our clients in all Australian courts as well as arbitration and mediation forums. We act in complex litigation for both plaintiffs and defendants.
Video transcription
Services: Court Representation
Your Advocate
Sometimes, unfortunately, litigation is required to solve disputes. Sewell & Kettle Lawyers are specialist litigation lawyers. We act for families, insolvent SMEs and entrepreneurs, and help them to promptly get to the bottom of the root causes of issues and engage in an in-depth analysis of the litigation.
I have represented clients in most courts in Australia and I have acted in very complex litigation and delivered excellent outcomes to clients.
Court Representation Services
What does a client need when they're represented in court by a lawyer? In the commercial area, one of the most important things is to work out a pre-litigation plan. That is, to understand how the proceedings might pan out and the prospects of success. That has got to be the first step in trying to get to the bottom of what the real issues are.
The second step is to explore whether there is any possibility of an alternative (ADR) process, such as mediation or arbitration, to resolve the issue without having to go to a full contested hearing.
My firm represents clients in New South Wales, Victoria and Queensland and also the federal courts. We also do all of the interlocutory applications ourselves, which means I go to court. Rather than engage a barrister for preliminary parts of the case, we provide a cost effective solution to our clients by doing it ourselves.
Our Focus: Disputes and Litigation
What are the focuses of our practice?
The first focus is on commercial disputes. This includes contract disputes, sale of goods disputes, partnership disputes, directorship disputes and failed investment disputes.
Secondly, we focus on insolvency disputes. Insolvency disputes could be where the director or the owner of the business has been sued by a liquidator. This includes applications such as unfair preference claims, uncommercial transaction claims, insolvent trading claims and applications regarding inquisitorial proceedings against the director. We represent the directors and the owners in those proceedings. 
Our Points of Difference
The key point of difference is that we are not a generalist law firm. We don't do conveyancing, we don't do family law, in fact there is a whole list of areas we don't work in. What we do, however, is we give specialist solutions to our clients.
One key area that is a point of difference is that we have very strong advocacy. So if litigation starts, we can go to court and we can stand up and appear.
Also, my firm has excellent knowledge in contract law and insolvency law. These are two very important areas if you're faced with an insolvency dispute.
We've got the flexibility to adapt to our client's needs. That's because we don't have a lot of clients and we focus on a small number of clients at any one point in time.
We've got a great network of professional advisors who support us, such as barristers, forensic accountants, insolvency practitioners, and more.
Finally, we have a commercial mindset. We understand our clients and we're focused on finding the solutions that they need to help them turn around their business or get out of the insolvency problem that they have.