Video "Voluntary Administration"
Voluntary administration is a process where a registered insolvency professional temporarily takes control of a business which is insolvent, or in financial difficulty.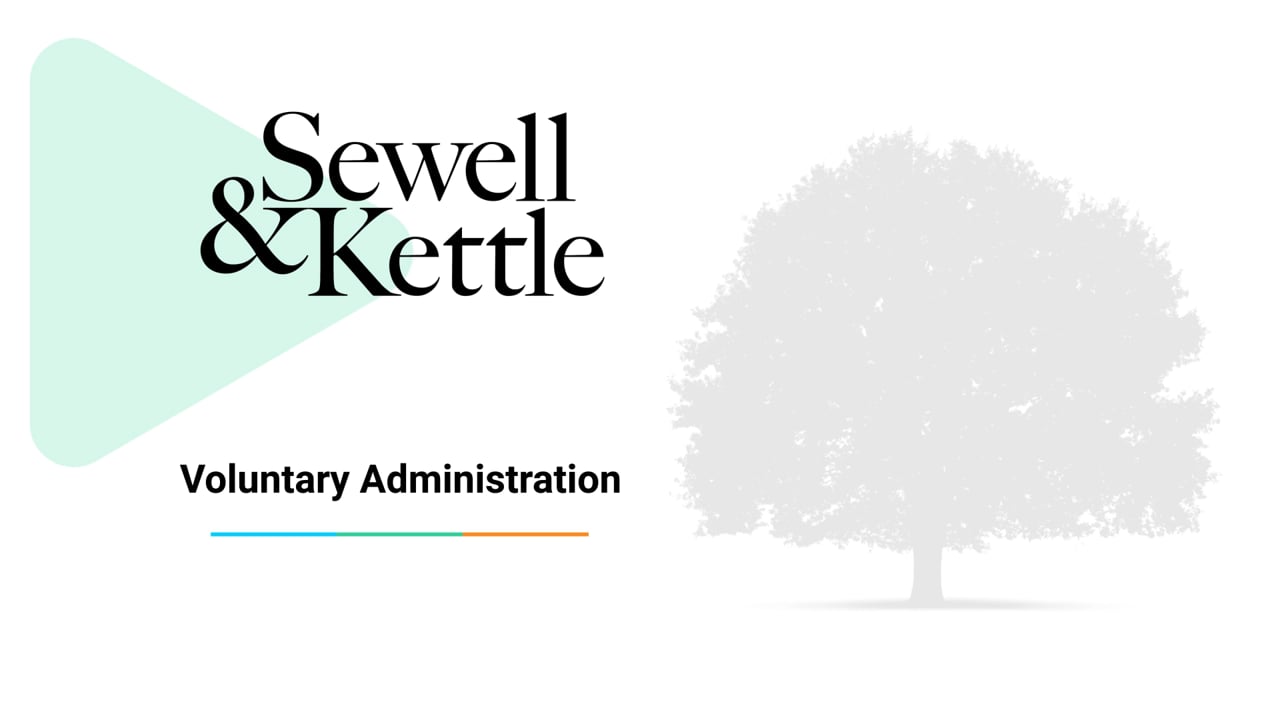 Voluntary administration is intended to support businesses that are insolvent to continue operating and, where that is not possible, achieve a greater return for creditors than the immediate winding up of the company through a restructure. In this video, Firm Principal Ben Sewell takes you through a brief explanation of voluntary administration and why it doesn't work for SMEs.
Video transcription
Voluntary Administration
What is Voluntary Administration?
I'm not a big fan of Voluntary Administration. Why? Because it doesn't work.
What is it? It's where an insolvent company has a voluntary administrator, that is an insolvency practitioner, appointed over it to take control of the affairs of the company, effectively pushing the directors out. Then at a meeting of the creditors, about five or six weeks after the appointment of the administrator, put a proposal to restructure the debts and potentially save the company from a wind up. Voluntary Administration was a good invention back in 1988 but it is no longer fit for purpose.
Does it Work?
Voluntary administration. Does it actually work? The reality is, and the empirical research in this area shows that it doesn't work, probably 90 to 95% of the time. There is a small strand of voluntary administrations that work. What do I mean by that? What I mean by that is that the outcome of the administration process is a restructured company, there's debt forgiveness and the business is handed back to the directors. A wholly successful outcome is fairly rare.
Popular Opinion on Voluntary Administration
The market, the media, etc, see voluntary administration, not as a regeneration platform, but instead as something equivalent to a liquidation. So the stigma of bankruptcy attaches to it, which is the main reason why it fails. There's a 2015 Productivity Commission report which found that, at least in 80% of the cases, the administration process failed. The raw statistics on ASIC appointments show that, over the last 20 years, the voluntary administration process is on a downward spiral in its popularity.
What are the alternatives to voluntary administration?
In 2017, there was a new law implemented called the safe harbour from insolvent trading. So there is one informal restructuring technique that can be used where the directors can continue to trade even whilst the company is insolvent. However, in small and medium sized enterprises, it's very difficult to use this. 
The next option is pre-pack insolvency arrangements. An interesting option, but there's a risk that the directors, if they don't do it correctly, could get accused of phoenix activity.
Then, in terms of informal restructuring, directors can look to refinance and inject fresh working capital in the business to try and save it. However, if the business is not viable, then that is only a short term solution for an inevitable process of winding up.
Finally, if the business is unable to trade, then my advice is to very seriously consider going straight into liquidation, so the creditors voluntary liquidation process, rather than putting yourself through the process of voluntary administration, which has a very low chance of success.
What should you do next?
If you're seriously thinking about appointing a voluntary administrator, the first step is to engage professional advisers to conduct due diligence and seriously look at whether it can succeed.
Recently there's been empirical research by Professor Jason Harris of Sydney University. What he found is that there is a very thin strand of voluntary administrations that succeed. My view is that those administrations that succeed have good advisers, adequate working capital and a plan in place before the appointment of the administrator that has a decent chance of success.